BEZGAR HM163 Review: 1:16 Off-Road 40km/h RC Truck
Meet the BEZGAR HM163 RC Truck: a hobby grade off-road RC vehicle with plenty of power to take on uneven terrain and reach speeds over 40km/h. It relies on a type 390 brushed motor to generate big horsepower. It has full metal parts and a nylon frame, so it will last you a long time. The good folks behind it were kind enough to send us a unit to review. The package came with two 1000mAh rechargeable batteries, USB chargers, two shells, a controller, and a bag for safe storage of the batteries.
We are not RC geeks but found this truck extremely easy to get started with. The controller is pretty intuitive and takes a couple of minutes getting used to. Removing the main shell and inserting the battery is pretty straight forward. As you hold a BEZGAR HM163 Truck, you quickly realize its high build quality. A clear shell is included just in case you want to create your own custom shell.
The BEZGAR HM163 Truck can go pretty fast, so you want to be careful where you use it (especially not around young kitties). It has a 1.8kg metal steering servo and 4 oil-filled ultra-shocks. If you are not experienced in this field, you may want to spend some time learning how to charge these types of batteries properly and store them safely.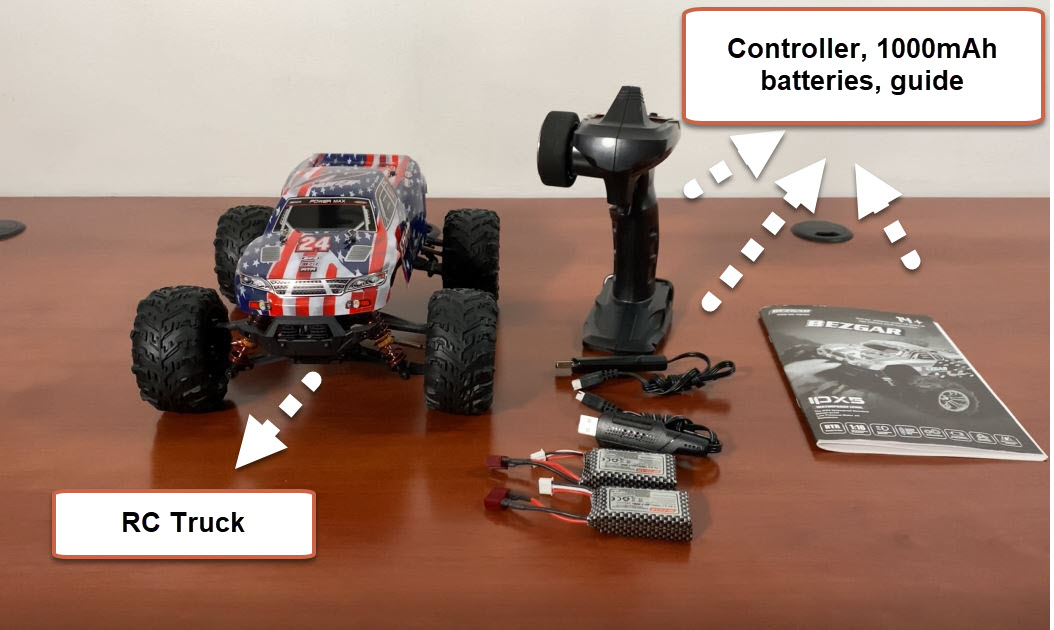 The controller is easy to get used to. It has a steering wheel on the side for turning. It also has steering and throttle trims for adjustment. We tested the HM163 truck in dry and wet conditions with no issues. It can easily drive over small fallen tree branches and leaves. The battery lasts about 20 minutes, which is long enough for some serious racing.
Overall, we found BEZGAR HM163 RC Truck a lot of fun. Even as beginners, we were able to get a handle on its features in about 30 minutes. This truck can not only go really fast but is customizable and adjustable. It should be enough for anyone needing more experience before moving to a more advanced RC truck.
Source: By Gadget Junkie