Black Friday Blowout: The RC Enthusiast's Guide to Holiday Deals in 2023!
It's the most wonderful time of the year, as Black Friday is here! 
For many, Black Friday is one of the best shopping events of the year - an excellent opportunity to score some amazing products, whether you're buying an essential, treating yourself or a loved one, indulging in a product you've been waiting for, or even stocking up for Christmas.
For RC enthusiasts, it's a chance to score huge holiday deals on top-notch gadgets and gear that allow you to take your hobby and passion to the next level. Whether you've been nice or naughty, Bezgar is ready to make your RC dreams come true with can't-miss savings!
As the leaders in RC vehicles, our Black Friday Blowout is set to deck your halls with drones, cars, boats, and more! From adrenaline-pumping stunt drones to off-road beasts ready to conquer rugged terrain, we've got thrill rides for everyone on your list.
Get ready to jingle all the way to RC toy heaven! 
This guide will give you the inside scoop on all the best Black Friday bargains. Santa himself would be jealous of the RC loot you'll find. So, LET IT SNOW savings - the holiday deals are here! 
Let's get into how you can make the most of it.
Early Bird: Prepping for the Sale
Scoring the hottest Black Friday RC deals takes strategy and prep, especially for top Bezgar models that are due to sell fast. However, these tips help you make the most of the Black Friday deals, no matter where you're shopping or what offers you're after.
 How can you set yourself up for savings success? Let's break it down:
Make a Wish List

: Note all the Bezgar products you've been eyeing. A clear list prevents impulse buys and keeps you focused.

Set a Budget:

Decide your total spending limit and allocate amounts for each wish list item. Remember, premium RCs come with higher price tags—don't break the budget!

Research Products

: Understand all the specs, compare models, and read reviews. Know each item's unique features so you can recognize a great deal.
Here are some tips to prep:
Rank your list from must-have to nice-to-have so you can prioritize.

Create a Black Friday budget spreadsheet to track spending.

Set Google Alerts for Bezgar products to get pre-sale price drop news.

Spend time each day researching your wish list models.
The early bird gets the worm - and the best deals! Start your prep now to score big on Black Friday!
Navigating Black Friday: The Ultimate Sale Guide
Black Friday feels like an adrenaline-pumping race. But with expert tips, you can conquer the madness and score big on Bezgar deals! Here's how to navigate the choppy waters and make this sale a fun, profitable trip:
Tips for Online Shopping
Stay Safe

: Make sure your connection is secure and device-protected. Only shop Bezgar's official site to avoid scams.

Start Early

: Online sales often start at midnight. Be ready to pounce on wish list items right at 12 am!

Use Filters

: Speed up your search by filtering for your desired products. Find them fast to snag them!
Understanding Deal Types
Daily Deals

: Some deals may only run for 24 hours. Keep an eye on Bezgar's homepage for flash sales.

Bundles

: Packages offer big savings. Look for Bezgar RC bundles with your wish list items.

Limited Stock

: These sell out quickly once the product is gone. Prioritize these for exceptional value.
With patience, quick decisions, and smart navigation, you'll conquer this sale! May the shopping force be with you.
Spotlight on Bezgar's Top Deals
As mentioned above, we have some stellar deals on offer that RC lovers are going to well, love. Whether you're buying for yourself, a loved one, or your kids or getting those early Christmas presents in, now is one of the best times to buy
This Black Friday brings huge savings on some of Bezgar's most popular RCs. Here's a preview of the top deals ready to roll out.
Bezgar BD901 Foldable FPV Drone
A shot of the Bezgar BD901 FPV Drone
Unleash your inner sky photographer with the Bezgar BD901 Foldable FPV Drone. Its integrated 1080P camera captures stunning high-def aerial shots to share. 
The adjustable 120° HD camera lens expands your field of view for more dramatic drone photography. Integrated smart app controls let you draw custom flight paths and even take gesture-activated selfies!
Easy auto take-off and landing plus headless mode make the BD901 a top choice for beginners. But its advanced controls will grow with you as your skills progress. This Black Friday, get it all for just $288.99 - the perfect gift for adventure seekers ready to reach new heights!
And keep an eye open for any secret deals that might pop up in your inbox!
Bezgar HP162S RC Monster Truck
Experience extreme RC power with the Bezgar HP162S Monster Truck, built to conquer. Its 3550kv brushless motor rips at speeds up to 25 mph across any terrain. With 4WD, full metal drivetrain, and front and rear diffs, it devours muddy tracks, soars over jumps, and sticks every landing.
Adjustable oil-filled shocks deliver a smooth ride across rough ground. The waterproof, high-torque servo means precise control with low noise. Aggressive all-terrain tires and a resin-reinforced body are ready for abuse. LEDs light up night adventures, and 20-minute runtimes on a single charge keep the fun going.
This Black Friday, slash 15% off the HP162S for monster truck thrills beyond imagination!
Bezgar TX123 RC Boat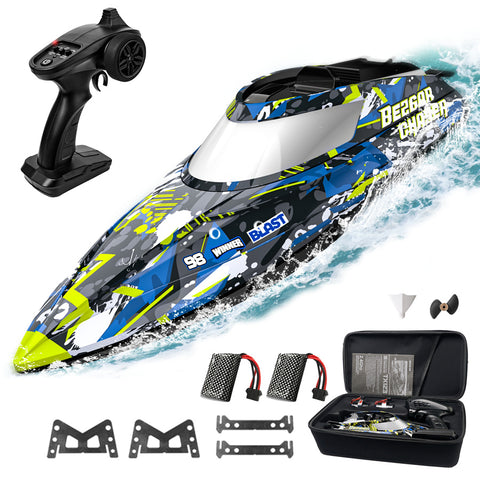 A shot of the TX123 RC Boat from Bezgar
Make a splash with the Bezgar TX123 RC Boat - perfect for anyone ready to ride the waves! Reaching electrifying speeds up to 20mph, it delivers high-octane fun for beginners and experts alike. Its double-hatch, waterproof design seals electronics for longer, more enjoyable sessions.
Dual 1200mAh batteries extend play to 40 minutes per charge. Smart features like water-cooled electronics, low battery alerts, and self-righting hull design enhance the experience. 
Whether you're looking for family-friendly fun or an all-out racing performance, the TX123 checks every box.
This Black Friday, ride the savings wave with an unbeatable 15% off the versatile Bezgar TX123 boat!
And that's just a taste of the RC mania in store. From lightning-fast drones to brawny trucks ready for mud, rocks, and trails, Bezgar has a Black Friday deal tailored for every hobby. 
So, gear up for the holiday's biggest savings on advanced RC vehicles built for performance and fun. The deals start now - it's time to spread some holiday cheer and save big on the best RC gear around!
Why Bezgar: Superiority in the RC World
So, bringing all that together, it should be easy to see that when it comes to top-notch RC gear, Bezgar can't be beaten! 
Our obsession with creating high-octane, rugged, and reliable vehicles sets us apart. We're committed to quality, ensuring every Bezgar model endures adrenaline-pumping adventures that keep on giving.
With futuristic tech like precision controls and telemetry, our cars are innovation and excitement combined - thrills for experts and newbies alike! Bezgar rides make every journey unforgettable.
Plus, our diverse lineup feeds every enthusiast's RC hunger - from rugged trucks conquering all terrain to agile drones owning the skies. We've got the ultimate playground for RC dreams.
That's why Bezgar is number one when you're ready to feed your RC addiction! And there's no better time than Black Friday. Bezgar brings the best RC action that keeps you coming back for more!
Conclusion: Ready, Set, Shop!
The holiday season is here, and Bezgar is bringing the RC cheer with the biggest Black Friday blowout yet! I don't know about you, but I'm pumped to score some sweet deals.
With massive 15% discounts on all the most popular Bezgar models, you can finally grab that dream RC without draining your wallet. I'm talking lightning-fast stunt drones, burly monster trucks ready to conquer muddy trails, and sleek speedboats to own the waves. The perfect gift for every hobbyist on your list!
The deals are hot but won't last long. Now's the time to pounce and unleash some holiday magic. Whether it's high-octane RC cars, pro-quality drones for aerial feats, or rugged off-road beasts, Bezgar has it all.
Let's make this season bright and put a smile on every RC enthusiast's face. 
Hop on these discounts while you can! From the Bezgar team, happy holidays and happy savings!